Follow-me-data, a quick glance
The last couple of months there where a lot of announcements made involving follow-me-data, all the vendors have seen the potential in building an 'Enterprise Dropbox' but there are still a lot of questions around there products, Dan Brinkmann recently wrote a blog on which functionality he would like to see in these Dropbox-replacements and as I answered to his question on twitter on functionality I agree with most of them:
Clients for Mac,Windows, Windows phone, Android, IOS, Blackberry (yes still a lot of these devices on the market)
Local Sync/caching solution with clients above
Client integration to folder structures, mapped drives (most do this today, I want to use it like a folder structure on my devices)
Selective synchronization of files and folders on a per device level (I do this with SugarSync today across my multiple devices)
Sharing of whole folders and individual files without requiring signup
Versioning of files
Simultaneous editing and collaboration on files with markup
Expiration of links and shared files
Enterprise kill pill/remote wipe for shared folders and files
Integrated DRM capability
Task / light project management capabilities
Active Directory integration
Encryption options depending on device, folder, client directed…etc
Online workspaces for projects or groups (straight from the Box feature list)
Onsite deployment of solution – no synchronization to cloud storage solutions
Hosted deployment of solution – cloud storage solution providing all storage
Backup solution replacement – I don't want to have to backup this data, I want to replace file servers with this solution and not have to worry about backup anymore, therefore it also needs user directed restore options and auditing
Content awareness of photos, music, video, etc and integration to client platform
Email client integration
Persona management / UEM  (if supported by client platform), imagine storing preferences, passwords, "persona" as part of this solution across platforms
Looking at the current products in the market the three most obvious products are:
I wanted to involve VMware Octopus but there's not enough information going round to complete this blogpost so I will update this blogpost as soon as there's more information available.
First thing I did was to search for the characteristics of these solutions and came up with the following table, this information is from the websites from the vendors:
| | | | |
| --- | --- | --- | --- |
| | ShareFile | HyperDrive | DataNow |
| Easy to Use | Powerful tools to easily integrate ShareFile into your workflow | Secured data accessible through Windows Explorer, Mac Finder or a web browser on personal or corporate hardware. | A frictionless anywhere data experience for users. |
| | Upload individual files up to 10 GB in size (competitors limit to 2 GB) | Online dashboard provides easy access to data and devices, and the flexibility to share data with approved external contacts | DataNow is making users instantly productive anywhere without compromising IT governance, efficiency, and economics |
| | Dedicated account manager to help you with set up and support | Integration with Outlook provides attachment options for large files, reducing impact on messaging infrastructure. | |
| | | | |
| Professional | Create online folders – clients only see the folders they can access | Create folders and only see what you can access | A robust set of data orchestration and policy controls that address both corporate and personal devices. |
| | Tracking and alerts to confirm that clients have received files | Tracking and alerts | Simple integration with existing enterprise desktop management and storage infrastructure. |
| | | | Cloud connectors that allow enterprise IT teams to tap the benefits of public cloud storage on theirterms, when they're ready. |
| | | | |
| Secure & Compliant | Unmatched password protection | On premises architecture assures enterprise-class security and that users' data is thoroughly protected across all of their devices. | DataNow includes a simple – yet flexible – policy creation interface to govern access to corporate data. |
| | Granular folder-level permissions | Optional Active Directory integration. | Active Directory Integration |
| | Files are transmitted with SSL encryption | Local data encryption. | IT teams can create foundational policies through an intuitive drag-and-drop interface or build their own customized policies through a highly extensible scripting interface |
| | | Remote theft protection. | fully automated policies can dynamically adapt data access based on contextual factors, as well as initiate security response activities such as remote data wipe in the case of a lost or stolen device. |
| | | Integrated backup to ensure that users' data is thoroughly protected across all of their devices. | |
| | | | |
| Mobile Clients | iPhone/iPad | Full cross-platform support for Android, iOS (iPhone, iPad), Windows and Blackberry phones | Windows, Mac, smartphone, and tablet devices. |
| | Android Phone/Tablet | | |
| | BlackBerry Phone | | |
| | Windows Phone | | |
As we've got some basic information from the websites, I configured HyperDrive and requested a trial account for ShareFile. I tried to request a trial for DataNow but I got an email that I had to wait a couple of weeks before I could try it. Therefore I did my best to find the information from the website and other resources. Here's what I found so far: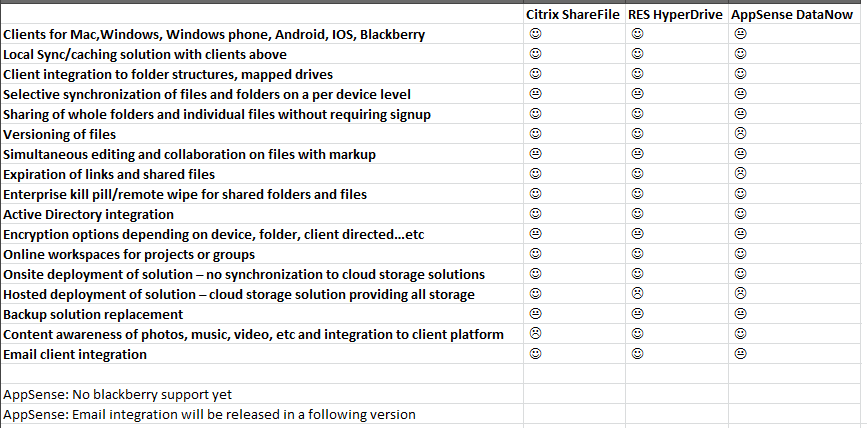 Marco Drost wrote a blogpost on this subject for the Peppercrew blog at:http://www.peppercrew.nl/index.php/2012/06/on-premises-dropbox/
He will go more in depth on the different features where I just took Dan's wishlist as a reference.